Gravity Conveyor Uses
Gravity conveyors are typically used to move objects like boxes, cartons and totes in situations where powered movement is not required. Examples include "take-away" conveyors from the exit of packaging machines, or flow racking. Progress Material Handling manufactures all common types of gravity conveyors in house. No matter what brand your existing equipment is or what type of machine you just installed, because we custom make to your size requirements, you get exactly what you want, quickly and for a very competitive price.
Benefits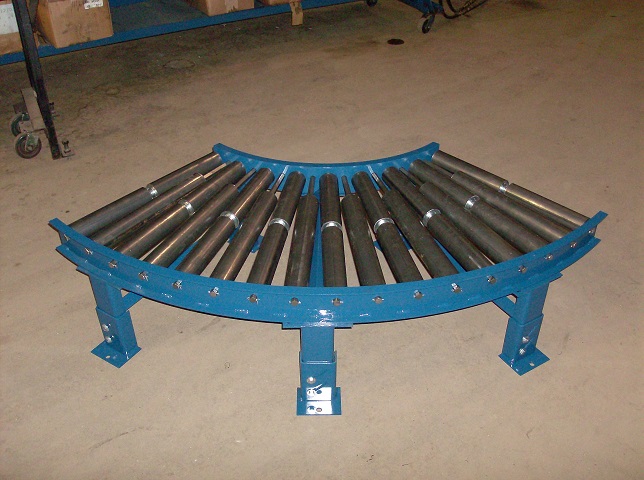 Design flexibility - straight, 90, 60, and 45 degree curves available.
Sized in length, BFR, and roller spacing to suit your individual needs.
Custom made to order.
No minimums.
Easily add on to existing equipment.
Quick turnaround, usually 2 weeks or less.
Choosing the Correct Gravity Conveyor
Gravity Conveyors come in four main sizes and configurations. The first thing you need to know is the conveyor's Between Frame Rail (BFR) dimension. The second thing you need to know is the length of conveyor needed for your application. In order to choose the correct type of gravity conveyor, the weight capacity and carton size are important to know. With all this information, we can tailor the roller width and spacing to suit your needs.
Gravity Conveyor Types
Four main sizes (1.4", 1.9", 2.5"-11gauge, 2.5"-14 gauge).
Typical frames are 11 gauge painted or pre-galvanized steel.
Heavy duty frames for 2.5"-11 gauge rollers are 3/16" painted steel for additional weight capacity.

>